31 - 8 - 2010
Papandreopoulos Periklis is the new drummer of the band. A new cd with brand new songs will be released during this year - we will keep you informed with regular updates! Also check out our event calendar for new gigs during the winter of 2010 and 2011.
17 - 3 - 07



The Flow will play live at the "Stone Bar" , Ermou 118, on Saturday 21 April. There will be guest bands including psychedelic rock band, "Am:Pm:" from Athens. You will get the chance to listen to new matterial that will be included in their new upcoming cd. More information will be available soon.
19-10-2006


A new drummer joined the band, Tsiblakis Vaggelis.
The Flow are rehearsing for upcoming concerts in Patras.
A new album with new songs will be released by the end of 2008.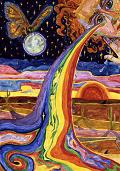 9-9-2006







"Jazz & Tzaz" (september issue 162) has a music critic for the album "Incubation" of The Flow.











3-9-2006







The first official Flow site is created by member and co-founder of the band Ekonomopoulos Thanasis. Please send your comments in my e-mail thaneco@hotmail.com



This site is under construction